Return to Newsletter
Green Corps Project underway at Westlake
A Green Corps funded project in progress at Westlake, in Brisbane's Centenary suburbs, is an excellent example of a cooperative partnership in urban landcare. The project involves development of a walking path with boardwalks and small timber bridges, and associated bushland rehabilitation.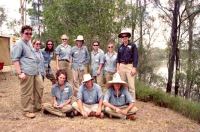 Apart from the Green Corps program funding sponsorship, the partners in the project include Brisbane City Council (BCC), the Australian Trust for Conservation Volunteers (ATCV), and local community bushland care group, Westlake Riverhills Bushcare Group (WRBG), as well as Ithaca College of TAFE.

Beneficial outcomes will accrue for the natural environment at the site, a 10 hectare urban bushland remnant straddling the one-kilometre long Pullen Reach of the Brisbane River. An enthusiastic 10-strong team of young people will also gain through environmental and construction training in this outdoor setting. See photo of the team, lead by supervisor, Brendan Taylor.
Project Launch
WRBG was pleased to be represented and address the project team at the launch on 17 Dec 1998. WRBG member and local resident, Ed Parker, says, "The broader community looks forward to much-needed improvements with the environmental-friendly walkway, at the same time reducing erosion problems and providing safer access to enjoy the bushland setting."
"For our part as a bushcare group, we welcome the ATCV team members into our community and both parties are gaining inspiration from the cooperative arrangement," he added.
The project concept was initiated by Chris Allan, BCC Habitat Brisbane officer, and is now coordinated by colleague Mike Noble. The work is being coordinated with WRBG's routine monthly working bees, including some planned joint sessions and social activities. Work commenced in December 1998 and the 10 young trainees will gain 26 weeks of onground training.
Some snaps taken of the Green Corps team at work (21 January 1999):